Get the Book!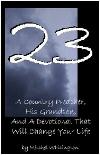 You may order a copy of 23: A Country Preacher, His Grandson, And A Devotional That Will Change Your Life signed by the author by clicking on the button below. Ordering is handled by PayPal, one of the most secure shopping systems on the web. The price of the book is $9.95, and there is a $2 media mail shipping charge. In most cases, the book will be shipped within one business day of ordering.

If you are a book store or distributor and you want to carry the book, please contact the publisher, 23 House, at 23house.com.
Price: $9.95 + $2/shipping
Paperback: 72 pages
Publisher: 23 House (12/23/07)
Language: English
ISBN-10: 0-9801850-0-9
ISBN-13: 978-0-9801850-0-3
Size: 8.5 x 5.5 x 0.25 in.
---
Get the Book | About "23" | Behind "23" | Main Page | Email
© 2008, Mitchel Whitington. All rights reserved