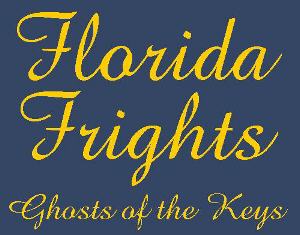 Come join author Trina Spillman as she takes you on a journey through the darker side of the Sunshine State. You'll go island hopping through the Florida Keys, and experience strange but true stories of the supernatural, including...
A cursed doll from the past that exhibits very strange behavior - even today...
The phantom train that roars down unseen tracks, re-creating its doomed mission of mercy...
A deranged doctor who went looking for a bride - in a cemetery crypt...
An old hanging tree that now stands as part of a popular saloon...
And an old fort where soldiers from the Civil War still march the parade ground.
These stories - and many more - await you in
Florida Frights - Ghosts of the Keys
Size: 5.5" x 8.5"
Binding: Trade Paperback
Pages: 106
Price: $12.95
Shipping: Free!

To order using PayPal, just click here: